A small selection of the past appearances:
With Frank Elstner ZDF 'Wir stellen uns ', Diese Drombuschs, ELF99 Berlin, 1A Brandenburg, Radio Neandertal, 'Unterwegs in Hessen' mit dem Hessischer Rundfunk und Bill Ramsey, Chris Howland, Bata Illic, HR3 Museumsuferfest FfM…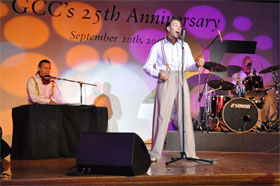 Viva Touristika, IAA Frankfurt am Main, Deutsche Reisewoche Japan, Korea, China, Cebit Hannover, Expo Hannover,
Internoga Hamburg, ITB Berlin, Touristikmesse Leipzig…
Aachen, Alanya, Amsterdam, Basel, Beijing, Berlin, Budapest, Darmstadt, Düsseldorf, Essen, Frankfurt, Guangzhou, Hamburg, Hannover, Hong Kong, Kemer, Kiel, Köln, Leipzig, München, Nürnberg, Osaka, Osnabrück, Paderborn, Pirmasens, Seoul, Shanghai, Stuttgart, Tokio, Trier, Worms, Wuppertal, Xi'an
Tournaments, Festivals and Variety:
1993 Deutschland Tournee (Große Freiheit/HH, Metropol/Berlin, u.a.) mit der amerikanische Rock'n'Roll Band " Stray Cats", Berliner Chamäleon Varieté,
Georgs Palast Hannover, Kieler Woche, Kampnagelfabrik/HH, Batschkapp Frankfurt, Centalstation Darmstadt, Tollwoodfestival München, Wilhelmstrassen Fest Wiesbaden, British Day Hamburg, Tag der Deutschen Einheit Dt. Botschaft Südkorea, Heinerfest und Schlossgrabenfest Darmstadt, Bergmannstrassenfest Berlin, Honky-Tonk Leipzig, Fulda, Worms, Braunschweig, Rostock, Lübeck, Hannover, Tanz in den Mai Biergarten Dieburg
Corporate Entertainment:
25th Anniv. German Chamber of Commerce Hongkong, 75 Jahre Hohnerklang, Arcor Mannesmann, BMW, Jaguar Association, Karstadt, Procter & Gamble, Mercedes, Merck, Röhm Siemens, Software AG, Wella….
25th Anniv. German Chamber of Commerce Hongkong
75 Jahre Hohnerklang
Filmhochschule Konrad Wolf
Arcor Mannesmann
BMW
Jaguar Association
Karstadt
Procter & Gamble
Mercedes
Merck
Röhm Siemens
Software AG
Wella….