Maarten Hoogenboom: Lead Vocals, Conference
Wendell Heiss: Piano, Loud Vocals & Animalism
Timon Ruhemann: Drums, Bass Vocals
Cami was founded in Darmstadt in May 1985, after Wendell Heiss and Maarten Hoogenboom discovered a stack of old sheet music from the 1920s in their grandmother's attic. In order to perform their interpretations with a bit more rhythm, they eventually found drummer and vocalist Timon Ruhemann during a jam session at Krone. Initially, their repertoire consisted mostly of Schlager and swing classics from the 1920s to the 1940s. Later on, they included rhythm and blues, doo-wop, and jive songs, and even ventured into rock and roll, which often turned their performances into lively dance parties. In the late 1980s, they would occasionally feature guest musicians such as Andreas Stellwag on double bass, Johannes Luley on jazz guitar, and Ulf Merbold on saxophone during their major gigs. The band was quite busy during this time, making various television appearances, including those with Frank Elstner on ZDF, guest appearances on shows like "Die Drombuschs," and on the youth program "ELF 99" when it aired on RTL. They also had performances with Bill Ramsey and Mr. Pumpernickel, Chris Howland, and accompanied the legendary "Stray Cats" as support throughout Germany, from the "Große Freiheit" in Hamburg to the "Metropol" in Berlin, which were among the highlights of that era. In order to reconnect with the band's roots, Safe, Sane & Single was formed in 1996, consisting of Maarten, Timon, and boogie-woogie player Andi Stenger. Both formations played concurrently until the band's dissolution in 1999. During this time, Wendell Heiss formed Firenight with his wife Angie and saxophonist and devil fiddler Stoney.
In 1988, their first doo-wop single (7″) was released, featuring the Crew Cuts classic "Sh-Boom" on the A-side, "Hold Me, Thrill Me, Chill Me" by the Flairs, and an Eddie Cochran-inspired version of "Am I Blue" on the B-side. The recording took place at Dr. Blümler's Tone Room in Darmstadt, with Andreas Stellwag on double bass.
In 1992, their second production came to life, a CD EP with 10 tracks, including "I Want You" by the Cadets, Pee Wee King's "Railroad Boogie," and a shuffle version of the Comedian Harmonists hit, "Mein Kleiner Grüner Kaktus."
Then, in 1995, their third CD and first full-length album were released, featuring 20 songs. Notably, it included "Heart & Soul" by The Cleftones, "It Ain't The Meat It's The Motion" by The Swallows, and Wendell's first original composition, "Blue Rhythm Boogie."
Both CDs were recorded at Lolo Blümler's Sesamstudio in Darmstadt and represent a diverse mix of their bilingual repertoire.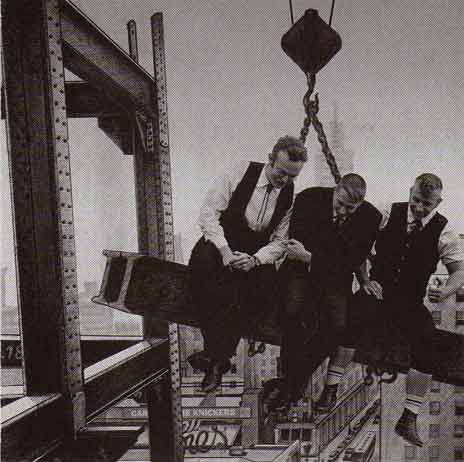 Maarten Hoogenboom: Tenor Vocal
Penny Steinmetz: Tenor Vocal, Guitar
Redi Kanankulam: Tenor Vocal
Timon Ruhemann: Bass Vocal
One beautiful day in 1992, the band "The Fourtunes" was formed, with barbershop singing and a cappella doo-wop at its core. The four handsome singers, each with experience from different bands, wanted to explore what they could achieve without instruments. Titles such as "Wish Me Luck Amigo," a closed-harmony song by the Mills Brothers, "Sweet Lucy Brown" by the Larks, interpreted by ska singer Redi Kanankulam from the band Skatrek, or "Girlfriend" by the Caddillacs, were among the highlights of their repertoire. And when Penny Steinmetz let his falsetto voice resound during the doo-wop smasher "Angel," many glasses-wearers trembled for their spectacles. Fourtunes primarily made guest appearances and performed 15 to 45-minute sets as part of shows and other music programs. When they decided to go their separate ways in the autumn of 1996, they left a significant void in the Darmstadt music scene. However, it was time to make room for young people and give them the chance to stand where they once stood.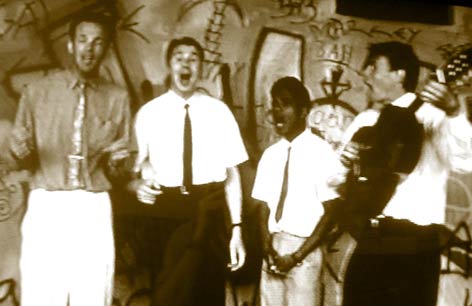 Maarten Hoogenboom: Tenor Vocal
Penny Steinmetz: Tenor Vocal, Guitar
Michel Heiss: Bass, Bass Vocal
Timon Ruhemann: Drums, Bass Vocal
With the grand goal of improving the world with good, righteous Schlager songs and timeless, profound rock anthems, three brave, young, yet versatile experienced men came together. Their fantastic Schlager show not only featured music but also included fun interactive games and a Schlager quiz, where coveted candy prizes were among the rewards. With a clever way with words and occasionally intricate choreography, they never failed to astound and bring a smile to both large and small audiences. Despite some reconfigurations along the way, they remained true to their goal until their dissolution in the year 2000, although they pursued it on partially separate paths from then onwards.